---


The Pro-Rec Ultimate CD CD-ROM



FORMATS: K2000, SampleCell Mac & PC,
ASR-10, EPS16+, TS-10, & ALL AKAI Samplers.

The Pro-Rec ULTIMATE CD features over 250 megs of
great samples from our top rated sounds for the world's
most popular modern synths, including the 01/W, SY85,
D-70, D-50, M1, Wavestation, Vintage Keys, JD-800,
JV-80 & more.

It's many, many synths all in one! & Over 10 dance drum kits!
This disc contains our ENTIRE original sample library!

The K2000 version contains over 2600 instruments,
other versions over 1100 instruments, including
incredible dance synths, hits, leads, pads, basses,
acoustics, vox&chiffs, organs, drums, horns and winds,
and tons of sounds from every category.

One of the greatest synth collections available!
price: just $99! With SynthSonic, just $199!
With Mega-Synth, just $149!
Get all 3 for just $149!



KEYBOARD MAGAZINE GIVES OUR
ULTIMATE CD CD-ROM TOP COMMENTS:
"Pro-Rec's Ultimate CD has a wealth of wonderful samples
taken from synths, specifically from Pro-Rec's existing patch
library for instruments like the Roland D-50 and JV-80 and
the Korg 01/W and Wavestation. ...Most of the usual food
groups - basses, guitars, electric pianos, strings, pads - are
well represented." "The basses on the CD are big and solid,"
"the synth banks feature some very attractive sounds,"
"the drums...their terrific." "Many of these sounds would
fit right into a pop arrangement..." "There's enough
material here to keep a synthaholic celebrating for weeks!"
Sound Quality: 4 Stars!

---
Pro-Rec Mega-Synth CD-ROM



FORMATS: K2000, SampleCell Mac (SampleCell PC,
Maui, AWE32 & more formats coming soon!)


NEW! Over 110 megs of all-new samples, featuring super analog
synths, basses, acoustics, ambient/film/3-D patches, pads, and
much more! Over 300 instruments and 110 megs of all-new
samples per CD! Over 750 patches on the K2000 version!!!
price: just $79! With SynthSonic, just $149!
With Ultimate CD, just $129!
Get all 3 for just $149!

Mega-Synth contains our entire new sample library, including
Analog Pro Collections 1, 2, and 3, JD-990 Collection 1, Pads 1& 2,
Filmscape 3-D 1, 5 drum kits, our new individual sample disks
and more sounds not available anywhere on floppy disk!

KEYBOARD ALSO GIVES OUR MEGA-SYNTH
CD-ROM SOME TOP COMMENTS:

"MEGA-SYNTH" Offers some great samples... fat
and punchy. ...Predominantly filled with analog-type synth
samples, covers a broad palette of leads, pads & basses.
...The drum kits have a distinctly dance orientation,
...a good combination for doing dance mixes.
...Most of the pads & synth strings sound very good,
even when used for dense voicings. Some of the brighter
patches could easily cut through an orchestra of chain saws!
Mega-Synth offers a wide variety of analog-style sounds,
ranging from serviceable to great!"


---
Pro-Rec offers high quality sounds and
samples for almost every synth and sampler
to musicians all around the world!
And get your synths and other hardware from: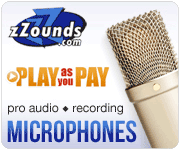 Our CD-ROMs and synth sounds
have been top rated in "Keyboard,"
"Electronic Musician," "Recording Magazine,"
"Sound on Sound UK,"
"FutureMusic", and many more.

San Diego, CA

Email us!
©2021 Pro-Rec, Inc. All Rights Reserved.
The Best Synth Sounds for Musicians Around the World!
We've Been #1 in Synth Sounds in the World for Over 25 Years!
Be sure to order, today!