Pro-Rec's Audio Sampling CDs
We have one great sample CD.
The classic Fairlight IIx.

Please inquire about ordering this audio CD.

This is an audio CD,
for use with any sampler.
---
Fairlight IIx
NOW BACK IN STOCK!
The absolutely classic Fairlight IIx library is now available on
audio sampling CD, the best sounds from an absolute classic!
Contains many of the most popular sounds from hits from
the past 15 years. Offically endorsed by Fairlight of Australia.
A definite must-buy for any serious musician!

The Fairlight radically changed the face of music in the 1980's
by giving the professional musician (with a large budget)
access to a range of sounds never before available.

Some three hundred of these machines were produced and
there are now about twelve left in this country. This CD gives
you the sounds for which the Fairlight was famous.

All samples have been recorded "dry" and level matched,
and fully retain the character of the original. Once recorded
into the digital editor, they did not leave the digital domain.
This gives the ultimate representation of the Fairlight sound,
which has graced so many records in the last ten years.

Here is a rare chance to own a collection of samples that until
now have been solely available to the lucky few who actually
possess a Fairlight and now even rarer full library of sounds.
---
Inside Booklet Information
And Sample Listing:
Fairlight IIx
Sample Library
Audio Sampling CDDigital
Domain
If you are seeking the original Fairlight IIx library,
this CD will be a huge find for you. If you've never
heard of the Fairlight and don't know what it sounds
like, we generally don't recommend it, since the Fairlight
is an 8-bit sampler and sounds much more grainy
than today's samplers.
Cause it's an 8-bit sampler there are generally
only two samples per sound wave, since the
old samplers simply didn't have the same standards
as today's. Again, if you're looking for classic
sounds, this CD is a goldmine. It features the
entire original library that comes with
the Fairlight IIx.

Introduction

Thank you for purchasing this CD. If you experience any dissatisfaction, or have any ideas for improving this, or future products, please do not hesitate to contact us.

The Fairlight has been with us in one form or another since 1979. It has always had an aura of mystique, and untouchability around it. The Series II was launched in 1984, and its sound has graced many hit records. Its library has been one of the most closely guarded secrets of the music industry for many years.

This CD now makes these sounds available to samplists the world over. All can be used in many ways, creativity is the key word. These samples are hit material, but it still requires skill to craft them into a hit record.

About This CD
The CD is split into tracks, each corresponding to its equivalent disc number in the Fairlight library. For example library disc 19 "Humans 1" has track number 19 on the CD. This makes locating samples easier.
Discs A, B & C are "extras" not in the library as such, but are commonly found alongside other samples in the library.

All samples have been recorded absolutely "Dry", with no equalisation or effects being applied to any of the sounds. Nor have any of the samples been compressed, level matching has been achieved in the digital domain.
Consequently the sounds are presented "as is", they are exactly as they came out of the Fairlight.

For best results a smattering of reverb, chorus and possibly delay brings the sounds to life.

HINT: When looping these samples try to find the original loops, and match them. Beware though, quite a few of the original samples don't actually loop very well, though this can normally be disguised with a bit of delay. Patience is a virtue! The samples do loop, though several require crossfading to get an acceptable result. Remember, you are working with original, untreated samples.

Index Page 1

Introduction 2
Disc Name CD Track Index
Disc 1 Keyboards1 1 3
Disc 2 Keyboards2 2 3
Disc 3 Pianos 3 4
Disc 4 Guitars 4 4
Disc 5 Basses 5 4
Disc 6 Drums 6 5
Disc 7 Cymbals 7 5
Disc 8 Percussn 8 6
Disc 9 Mallets 1 9 6
Disc 10 Mallets 2 10 7
Disc 11 LoString 11 7
Disc 12 HiString 12 8
Disc 13 TremStr 13 9
Disc 14 PizzStr 14 9
Disc 15 Brass 1 15 10
Disc 16 Brass 2 16 10
Disc 17 Reeds 17 11
Disc 18 Wind 18 11
Disc 19 Humans 1 19 12
Disc 20 Humans 2 20 12
Disc 21 Bells 21 13
Disc 22 Analog 22 13
Disc 23 Animals 23 14
Disc 24 Effects 1 24 14
Disc 25 Effects 2 25 15
Disc 26 Effects 3 26 15
Disc 27 Effects 4 27 16
Disc 28 Mode 1 28 16
Disc 29 Weather 29 17
Disc 30 HarpChim 30 17
Disc A Additionals 31 18
Disc B Machines 32 18
Disc C Goodies 33 19
Fairlight Sounds 34 19
Test Tone 35 19


Track 1 Fairlight
Disk 1
Keyboards 1

Name Pitch Notes
BellSyn C2 C4 FM Style Bell Synth
CBellOrg C3 C5 Percussive Attack, hollow sustain
Dirt Clav C2 C4 Dirty, grungy, growls
ElecOrg1 C2 C4 Sim. to CBellOrg, Minus Attack
ElecOrg2 C3 C4 Church Organ
ElecOrg3 C2 C4 Reedy Organ
ElecOrg4 C3 C5 Cheap Transistor Organ
EleKorg C2 C4 Synthesized Harp
Melodium C3 C5 Melodium
Organ1 C4 C6 Rock Organ
Organ2 C3 C6 Blues Organ
Organ2 C3 C6 Jazz Organ
Organ3 C3 C5 Reedy Organ
Organ4 C2 C4 Lrg. Organ, Pitch Change on Loop
Organ5 C3 C5 Blues Organ
ToyOrgan C3 C5 Little Toy Organ
Track 1
Fairlight Disk 2
Keyboards 2
Name Pitch Notes
Ensmble1 C2 C4 Pad sound, organ like
Ensmble2 C2 C4 Pad sound, organ like
Harps C4 C6 Harp pluck, sounds sim. to a gtr
MergeSyn C2 C4 Morphing Sound
Newt1 C3 C5 Blues Organ
Orgbite C3 C5 Sharp Organ
Orgsitar C3 C5 Scitar and Organ Stack
P6xsyn C3 C5 Evolving Synth sounds
Rubba C3 C5 Hard rubber bass
Tlap2Syn C3 C5 TlapSyn merging into sine
TlapSyn C3 C5 Evolving synth sounds w/ sweep
Twang C3 C5 Perc hit with evolving sustain
Voxtop C2 C4 Synth voice
Yampan C3 C5 Yamaha Piano
Zither C2 C4 Zither

Track 3
Fairlight Disk 3
Pianos

Name Pitch Notes
ElecP A2 A4 Full EP sound, with faint tine
Elecpian A2 A4 With bend in pitch
Grand1Hi A2 A3 High Grand Piano
Grand1Lo A2 A3 Low Grand Piano
Piana5 C3 C4 Rich Piano
Piana6 C3 C4 Damper off, for a haunted feel
Pianny C3 C5 High Piano
PianoHi A2 A4 Thinner High Piano
Pianolo A2 A4 Thinner Low Piano
Pwang A2 A4 Deep, detuned piano hit
ToyPian C3 C5 Tiny little bell piano

Track 4
Fairlight Disk 4
Guitars

Name Pitch Notes
Banjo C2 C5 Fab bass, twangy banjo
Cheng C3 C5 Soft, high pitched
DirtGtr C3 C4 Hmm, heard this before?
FlangeGuit C3 C5 Loop matches the flange
FuzzGtr C2 C4 Filter closed fuzz guitar
FuzzGtr1 C3 C5 Raw dirt
FuzzGtr2 C3 C5 Hollow fuzz (poor loop)
Gtaraa C3 C5 Hard plucked
Gtr C3 C5 Softer plucked than Gtaraa
Gtr4 C4 C6 Rich acoustic
Guitar 1 C3 C5 Hollow acoustic
Guitar 2 C3 C5 High acoustic
Guitar3 C3 C5 Full acoustic
Koto C3 C5 Koto
Koto2 C3 C5 Sim. to Koto, but with diff attack
KotoBend C3 C5 Heard this before as well?
Mandolin C3 C5 Layer with Arr1 for Crockett's
Sitar C3 C5 Sitar
WailGtr C3 C5 Groovy spot effect

Track 5
Fairlight Disk 5
Basses

Name Pitch Notes
AccBass C3 C4 Plucked upright bass
ArrBass C2 C4 Deep voice pad
BasClear C3 C4 Slap bass
Basso C3 C4 Organ pedals
Basspop C3 C4 Slap pop
BassRick C3 C4 Sample and hold bass
DblBass1 C4 C5 Hard plucked upright
ElBass C3 C4 Mellow plucked bass
MufBass C2 C3 Deep full bass
Synbass1 C3 C4 Synthesized by the Fairlight
Synbass3 C2 C4 Synthesized by the Fairlight
Tbass C4 C5 Poppy voice sound
TramBass C4 C3 Bowed Double Bass
Tramchlo C3 C4 Bowed Cello
Zow1 C2 C4 Analogy, Burbly Sound

Track 6
Fairlight Disk 6
Drums

Name Notes
BD1 Tight Kick
Bbdrum1 Loose Kick
Bbdrum2 Soft Kick
Bdrum Pop Kick
BigTom Large Gated Tom
Crosstix One two three four!
Dumbo Tight tom
FloorTom Floor tom
MilBDrum Big bass drum
Rim Rimshot
Snare Piccolo Snare
Snare1 Solid Snare
Ssnre Deep Snare
Ssnre1 Full Snare
SymKick Electronick Kick, close to being a Tom
SymSnre1 Wispythin snare
SymSnre2 Thicker than SymSnre 1
SymTomHi Synth tom, without pitch decay
SymTomLo Synth tom, without pitch decay
Timb Real timbale
Tom1 High Tom
Tom2 Lower Tom
Ttom Deep Tom
Tymp Tympani

Track 7
Fairlight Disk 7
Cymbals

Name Notes
Crashcym Small Splash
Cym1 Ride Small
Cym2 Ride Medium
Cym3 Bright Ride
Cymride Ride
CymShort Muted Cymbal
Gong Gong looped
Gorgon Small Cymbal
HH Closed Standard Closed HH
HHDisco Open/Closed
HHOpen Standard Open HH
HHPedal Standard Pedal Close HH
HHTamb Closed HH with Tambourine
HiCrash Thin Crash
OpClHat Standard Open/Closed HH
Pang China Crash
RideCym Swingin' Ride

Track 8
Fairlight Disk 8
Percussion

Name Pitch Notes
Cabasa Cabasa Loop
Conga Deep Conga
Clap Large Hand Clap
Claves Small Claves
Cowbell1 Low, Dull Cowbell
Cowbell2 High, Bright cowbell
Finger Finger Cymbal
Fish Long Guiro
Fishs Short Guiro
K2 High Tabla
Rhythm1 A1 A4 Woody.Shaker Loop
Rhythm2 A1 A4 Belly Loop
Tabla Low Tabla
Tambour Tambourine Hit
Timbale Timbale
VbrSlp Big VibraSlap with Loop
VibSlp Small VibraSlap Hit
Wood Deep Wooden Loop

Track 9
Fairlight Disk 9
Mallets1

Name Pitch Notes
Bar C2 C4 Deep Kalimba
BassMar C3 C5 Deep Marimba
Chimes1 C2 C4 Tubular Bells
Gender C3 C5 Gender
Glock C2 C5 Glockenspeil
KalimHi C2 C5 High Kalimba
KalimLo C3 C5 Low Kalimba (More Vibrato)
MarBlock C2 C4 Short Marimba
Slap1 C2 C4 hard Percussive Hit
StlBell C2 C4 Small Steel Bell
StlDrum C3 C5 Steel Drum
StlDrum2 C3 C5 Steel Drum (More Vibrato)
VibMid C2 C4 Vibraphone
Xylop C2 C4 Xylophone

Track 10
Fairlight Disk 10
Mallets2

Name Pitch Notes
Chimes2 C2 C4 Deep Tubular Bell
Gam C3 C5 Hi Gamalan Bell
Gam2 C2 C4 Low Gamalan Bell
Nipple C3 C5 Deep Bell
Nopple C3 C5 Chinese Deep Bell
Steel1 C3 C4 Steel Drum
Steel2 C3 C4 Steel Drum
VibLo C2 C4 Low Vibraphone
VibOct C3 C5 8ve Vibraphone
VibUp C2 C4 High Vibraphone
Track 11
Fairlight Disk 11
LoString

Name Pitch Notes
BowdBas4 C3 C5 Heavily Bowed Bass
BowdBass C4 C5 Deep Bowed Bass
Cello1 C3 C5 Hard Cello
Cello2 C3 C5 Full Cello
LowStr1 C2 C4 Deep Strings
LowStr2 C2 C4 Smooth Deep Strings
LowStr3 C2 C4 Soft Strings
LowStr4 C2 C4 Mellow Strings
LowStr5 C2 C4 Menacing String Section
StgeSolo C2 C4 Solo Viola
StringO C2 C4 Organ Str Stack
StrMid C3 C5 Mid String Section
StrMiddy C3 C5 Mello Mid String Section


Track 12
Fairlight Disk 12
HiString

Name Pitch Notes
BobString C3 C5 Vox Strings
FenString C3 C5 Fuller Vox Strings
Poly C3 C5 Analog Strings
Quartet C3 C5 Biting String Quartet
V3Sus C3 C5 High Violins
VHiSus C3 C5 Fuller High Violins
ViolHi2 C3 C5 Soft High Violins
ViolSus C3 C5 Rounded High Violins
VlnLo1 C3 C5 Deep Violin
VlnLo3 C3 C5 Deep Raspy Violin
VloShort C2 C4 Attacky Violin
VMidShrt C2 C4 Attacky Violin
VnSlo C3 C5 Rounded Violin
VnsMid C3 C5 Rounded, warm Violin

Track 13
Fairlight Disk 13
TremStr

Name Pitch Notes
Orch2 C2 C4 Orchestra Tuning
Orch5 C3 C4 The most famous sample
OrchFz1 A3 Belly Stab
Sfzan1 C3 Dramatic Stab
Shimmer C3 C5 Bright, Metallic Shimmer
Tibet1 C2 C4 Rhythmic loop, Vox & Bells
Tymp C3 Tympani
VlnTrem2 C2 C4 High Trem
VlnTrem4 C2 C3 a la Four Seasons
VlnTremA A4 Trem on A
VlnTremD D4 Trem on D
VlnTremE E4 Trem on E
VlnTremG G4 Trem on G
VTremolo C3 C5 Rich Trem

Track 14
Fairlight Disk 14
PizzStr

Name Pitch Notes
CellPiz1 C3 C5 Deep Cello Pizz
CFiddle C3 C4 Country Fiddle "Yee Ha!"
PizzHi C4 C6 High Vio Pizz
PizzLow C2 C3 Warm and Deep Pizz
PizzOpen C3 C5 Harsh and Bright Pizz
ViolaPizz C3 C5 Warm Full Pizz
ViolPiz3 C2 C4 Similar to ViolaPizz
ViolPiz4 C2 C4 Slightly Distant Pizz
ViolPiz5 C2 C4 Bright Pizz
ViolPizzA A1 A3 Mellow Pizz on A
ViolPizzC C2 C4 Mellow Pizz on C
ViolPizzD D2 D4 Harp like Pizz on D
ViolPizzG G2 G4 Harp like Pizz on G
ViolPizzA A2 A4 Harp like Pizz on A
VPizz C2 C4 Short, Sharp Pizz
VPizzHi C3 C5 Short, Sharp High Pizz

Track 15
Fairlight Disk 15
Brass 1

Name Pitch Notes
Brass1 C3 C4 Middly Brass
BrasEns C3 C4 Large Brass Sect
ChorBras C3 C4 Chorused Synth Brass
Hornensm C3 C4 Large Horn Ens
OldHorn C3 C4 Clear Single Horn
SynTrp2 C3 C4 Synth Trumpet
TrmBnMid C3 C4 Fat Trombone
Tromm1 C3 C4 Clear Trombone
TrpHi1 C3 C4 Very Strange Vibrato Trumpet
TrpHi2 C3 C4 Bright Trumpet
TrpMid1 C3 C4 Mellow Trumpet
TrptHi C3 C4 Brassy Trump
Trump C3 C4 Soft Trump
Trumpet2 C3 C4 Short Trumpet
TrumpM2 C3 C4 Mello Low Trumpet
TrumpM3 C3 C4 Brassy Low Trumpet

Track 16
Fairlight Disk 16
Brass 2

Name Pitch Notes
BrassH1 C3 C4 Good usable brass sound
CornetH1 C3 C4 Cornet with warble
FrenchL1 C3 C4 Brassy French Horn
HornEnl1 C3 C4 Large Horn Ensemble
HornEnl2 C2 C4 Deep Horn Emsemble
HornEnm1 C2 C4 Horns with organ
HornEnm2 C3 C4 Tight Horns
HornEnm3 C3 C4 Big Horns
TrFall C3 C5 Trumpet Fall
Trip C4 C5 Trip up
Tuball1 C3 C4 Short Pop
Tuball2 C3 C4 Long and Deep
Tuball3 C3 C4 Large Pop

Track 17
Fairlight Disk 17
Reeds

Name Pitch Notes
Alto C2 C4 Alto Sax
Bari C2 C4 Baritone Sax
Bassoon C3 C4 Bassoon
Clar2 C2 C4 Clarinet
ClarHi C2 C4 High Clarinet
Clarinet C3 C4 Short Clarinet
DelClar3 C3 C4 Rich Clarinet
DelSax2 C4 C5 Sax
SaMax C3 C5 Soft Sax
Saxy C3 C4 Mellow Sax
Saxz C3 C4 Short Sax
SopSax C3 C4 Soprano Sax
TnSaxC3 C3 C4 High Sax

Track 18
Fairlight Disk 18
Wind

Name Pitch Notes
Digdoo C3 C4 Digery Do
FltCf C4 C5 Clear Flute
Flte C3 C4 Soft Flute
Flute C4 C5 Flute
Flute3 C4 C5 Flute
FltHi C3 C4 High Flute
Harp C4 C5 Mouth Organ
Harp2 C4 C5 Harmonica
MeloHorn C2 C4 Mellow Flute
Naypro C4 C5 Naypro
Ocarina C2 C4 Ocarina
Ooo C2 C4 Wooden Pipe
Swanee C3 C4 Calliope
WineGlas C4 C5 Crystal Glass

Track 19
Fairlight Disk 19
Humans I

Name Pitch Notes
Ah2 C3 C5 High "Ahhhhh"
Arr1 C2 C5 Most used Fairlight sample?
Bucchi C3 C5 "Guh!"
Clap A4 Hand Clap
Do C4 C5 "Do"
La C3 C5 "Laaaaa"
Laugh C4 Strange Laugh
Mmm C4 C6 "Mmmm"
Moan C4 "Oh!"
Mouth02 C3 C5 Harmonica
Shout C4 "Blaaa!"
TomBass C3 C5 "Pah!"
Vox C3 C5 Vox Pad
Vox1 C4 C5 "Heyyyyyyyyyy"
Whist C3 C5 WhistleTrack 20 Fairlight Disk 20 Humans II
Name Pitch Notes
Ahh C2 C4 "Ahhh" Female
Ahh1 C2 C4 "Ahhh" Male
Alto1 C3 C5 "Ahhh" Female
Bass1 C2 C4 "Ahhh" Male Deep
Bass2 C2 C4 "Ahhh" Male Deep
Laf3 G3 Looping Laugh
Ooh C2 C4 "Ooh" Hit, pitch slide
Oohh C3 C5 "Oooooh" Female Ooohs
Scream5 A4 Scream
Shhha C4 Strange!
Soprano1 C3 C5 Female Soprano
Tenor2 C2 C4 Warm Tenor
Tenor3 C2 C4 Vibrato Teno
Voice3 C2 C4 Group "Ahhhh"
Voxm C2 C4 Vox Pad
Xom C2 C4 Deep "Ahhh"

Track 21
Fairlight Disk 21
Bells

Name Pitch Notes
Alarm C3 Alarm Clock
BellTree G4 Hi wind Chimes
BllTr A4 Lo wind Chimes
Bowl1 C3 C5 Metal Bowl
CBell A4 Cowbell Lo
CowBell2 A4 Cowbell Hi
EatBowl C3 C5 Metal Bowl (Long)
Eerr1 C2 C4 Eerrie WaterPhone
Glass4 C3 C5 Crystal Glass
JingBell A4 Jinglebells Loop
Holstein A3 Large CowBell
MusicBox C4 C6 Music Box
NewBell A4 Little Bell
RnchBell A4 Ranch Bell
SlBells A3 Loop
Spring C4 Spring Hit
SynBell C2 C4 Fairlight Generated Syn Bell
TelBell A4 "Next!!!!"

Track 22
Fairlight Disk 22
Analog

Name Pitch Notes
BassSynt C2 C4 Bright Bass Synth
Basszow C2 C4 Zowee Bass
Ensemble C2 C4 Lush String Synth
MBrass C2 C4 Synth Brass Horn
MBrass2 C3 C5 Large Synth Brass
MBWow C2 C4 Brass
MBWowSus C2 C4 Soft Wow
MClav C2 C4 Synth Clav
MClav2 C2 C4 Mello Synth Clav
MDeeyaw2 C3 C5 Synth Stab
Mdeeyawl C3 C5 Big Synth Stab2
MDootwa C2 C4 High Filter Sweep
MDWeeeee C2 C4 High Filter Sweep2
MSawToof C2 C4 Sawtooth Pad
MWa C2 C4 Filter Sweep
Organ C2 C4 Synth Organ
Samphold C4 Strange Loop
Whistle C2 C4 Noise Whistle

Track 23
Fairlight Disk 23
Animals

Name Notes
Bird1 Tweeteetetu
Bird2 Rapid Tweets
Bird3 Looping Tweet runs into...
Bird4 Very Rapid Tweets
Bumble Bumble Bee
Chirp Waa
Cocky I;m the King!!
Crow Lunch...
Dog The first sample ever made
Dove Dove
Elephant Elephant Trumpeting
Gallop Black Beauty?
Night Crickets
Oiseau2 Bird
Pigs Pigs
Rooster Cockadoodle Doo
Seal Seal Bark
Sheep Baaa!
Wolf Whine

Track 24
Fairlight Disk 24
Effects1

Name Pitch Notes
BreakGls Small Window
Dawn A1 A4 Disonnant Loop
Dish Dish Rolling Across Hard Floor
Gurg1 Noise
Phart S'Cuse Me!
Phone A1 A3 Techno Zap Loop
Pour Pouring Water
Spark Bzzzzzzt
Spoon Spoon into Mug
SSSTTT Scraping Loop
Stir Stir the Coffee
Sword Kching
Useless A1 A3 Dissonant Analog Pad
Whoop Analog Boooww
Wind Wind
WPhone Waterphone

Track 25
Fairlight Disk 25
Effects2

Name Pitch Notes
Arrow Cartoon Arrow
BoingHi High Bong
Boink Cartoon Boink
Bomb Bomb
Bomb2 Big Bomb
EhhEhh Strange
Fight Cartoon Fight
Grom Windy Miller
Nyep Strange Loop
Pdow Ouch
Ricochet Ricochet
Whirl A2 A4 Whirly Noise
Whizz Whizz
Wooo "The Flinstones?"
Yim Chinese Noisy Loop

Track 26
Fairlight Disk 26
Effects3

Name Pitch Notes
Bubbly C2 C4 Strange Analog Bubble Loop
CroTimp A2 A4 Eerie Tympani
Drip Drip
Drip1 Drip2
India Ethnic Loop
Noise1 F1 F4 Noise Loop
Particle Odd Loop
Pass F1 Car
People Voices Talking
Screech Screech to a Halt
Siren Police Siren
SitarPlay A3 A3 2nd Time with an Open Filter
Snort Synth Noise
Sproing1 C2 C5 Synth Sproing
SSpring Cartoon Spring

Track 27
Fairlight Disk 27
Effects4

Name Pitch Notes
Bizzare "Bizarre"
CarHorn Car Horn
EngRev Short Rev
Heart Heart Beat
Helicptr Helicopter Blades
MGun1 A2 A4 A4 Deep..Short..Long..
Oscill Strange
Random1 C2 C6 Random Noise
Rev Reving Car
Sandhld C2 C4 Sample and Hold Loop
Saw Bowed Saw
SH1 Noise
Train Train Whistle
Traintrx Train Tracks
TranWsl Train Whistle 2
UFO Alien Loop

Track 28
Fairlight Disk 28
Mode 1

Name Pitch Notes
A1 C2 C4 Deep Evolving Metallic Sound
Blat C2 C4 Hard Bass with Pop at End
EnHarm C3 C5 Enharmonic Sound
Grose C3 C6 Large Growl
Harmy4 C3 C5 Metallic Bass
Meta C3 C5 Metal Mallets
Pharm1 C3 C5 Bassy
Pharm2 C2 C4 FMy Metallic Bass
Pharm3 C2 C4 Strange Filter Close
Pharm4 C2 C4 Strange Filter Open
Pharm5 C2 C4 Filter Open Sustain
Pharm6 C2 C6 Pop Evolve
Wa C2 C4 "Wa" Filter Open Loop
All the sounds on this disc are the product of the additive synthesis
section of the Fairlight, and are not actually samples.

Track 29
Fairlight Disk 29
Weather

Name Notes
Clap1 Thunder Clap
Clap2 Deep Thunder Clap
Expl1 Huge Thunder Clap
Gale Strong Gale
Rip Lightning Rip
SmlCrak1 Thunder Crack
SmlCrak2 Dist Thunder Crack
Sparks Electrical Crackling
Thndr1 Roll of Thunder
Thndr2 Bright Storm Burst Roll of Thunder
ThndrCrk Thunder Crack
TLoop1 Looping Thunder Rumble
TLoop2 Looping Thunder Rumble
TRoll Thunder Roll
TStep Deep Dist Thunder Roll
TTone Deep Roll
WWind Whistling Wind

Track 30
Fairlight Disk 30
HarpChim

Name Pitch Notes
ChimesA1 A1 Tubular Bell At A1
ChimesA2 A2 Tubular Bell At A2
ChimesC1 C2 C4 Tubular Bell At C2 and C4
ChimesC2 C2 C4 Tubular Bell At C2 and C4
ChimesG1 G2 Tubular Bell At G2 and G4
HChordG G1 Multi Sampled Harpshichord
HChordD D2 Multi Sampled Harpshichord
HChordB B2 Multi Sampled Harpshichord
HChordD D3 Multi Sampled Harpshichord
HChordG G3 Multi Sampled Harpshichord
HChordB B3 Multi Sampled Harpshichord
HChordB B4 Multi Sampled Harpshichord
HChordD D5 Multi Sampled Harpshichord

Track 31
Fairlight Disk A
Additionals

Name Pitch Notes
AnnaStab C3 C5 Stacked Poly 800 Stab
BelfastStr C3 C5 Once upon a time was a DX7
DigiBass C2 C3 Soft Digital Bass
GrowlBass C2 C3 Growly Bass
JunoBass C2 C3 Analog Bass
MikeBass C3 C5 Rubbery Bass
PeanutBass C2 C3 Tight Bass
PlastickBass C2 C3 Plastic Synth Bass
RoundBass C3 C5 Soft Warm Bass
RotundBass C2 C3 Warm Analog Bass
RubbaBass C2 C3 Hard Rubber Bass
WowBass C2 C3 MetalliWow Bass

Track 32
Fairlight Disk B
Machines

Name Notes
BrenGun Bren Gun on Auto
GunCock Bolt Action Rifle
JetPass Single Engined Jet Pass
MGun2 Rapid Fire
Rocket Rocket Launch
RaceCar Screams Past
RifleAuto Small Arms Fire
Rifle Single Shot
Scat Weird Vocal FX
Shaddup Weird Vocal FX
Slash Weird Vocal FX
Shotgun 12 Bore, Single Shot
Tsssh1 Deep Vocal FX

Track 33
Fairlight Disk C
Goodies

Name Notes
CarSmash Skid and Crash
Crackle Fire Crackle
Cuckoo Cuckoo Clock
Dial1 Dial Phone
Dial2 TrimPhone Ring
Dial3 Harsh Ring
Door Door Slam
Gurgle Water Pouring
HapiBaby "Oh Ah Ha!"
Laf Looping Laugh
Marching Troops off to Battle
Mud Two 8ves apart, bloopy, yucky
PingPong Ping Pong Match
Rain Hard Rain
Rip Paper Tear
Saw Sawing Wood
Scratch Dub Scratch
Sea Rolling Waves
Shatter Porceline Vase Dropping
Swoop Synth Swoop
Yhu "You Hoooo"

Track 24
Fairlight Sounds
The Machine Itself

Booting Up
Loading a Sample
Failing to Load a Sample, with Reaction
Shutting Down
Track 35 Test Tone
One Minute Test Tone at 1 KHz.
HINT: This test tone is .01dB louder than any other sample on
the CD. Line up your sampler so the level of this sample is just
below clipping. This then ensures that all samples then taken
from the CD are at optimum level.
Click on these boxes
for more info on our products:



Pro-Rec offers high quality sounds and
samples for almost every synth and sampler
to musicians all around the world!
And get your synths and other hardware from: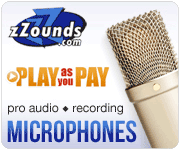 Our CD-ROMs and synth sounds
have been top rated in "Keyboard,"
"Electronic Musician," "Recording Magazine,"
"Korg Connection," "Triton Haven,"
"Trinity Haven," "Sound on Sound UK,"
"FutureMusic", and many more.

Tiburon, CA 94920 U.S.A.

Email us!: sounds@pro-rec.com

©2012 Pro-Rec, Inc. All Rights Reserved.
The Best Synth Sounds for Musicians Around the World!
We've Been #1 in Synth Sounds in the World for Over 20 Years!
Be sure to web order, call, mail, or fax us with your order today!